There are those moments, every mother experiences them, when the house gets very quiet and you pause, take a deep breathe and think "Ah, this is wonderful, peace!" And then suddenly, panic. "Peace? Why is there peace and quiet in my house? Why is nobody yelling? Surely somebody has been wronged, slapped, or tortured in some way!" Then comes that sinking feeling. If all is quiet in my home then
something
must

be terribly wrong." You hesitate, if only for a moment. "How bad can it be?" You wonder guiltily. "Should I really go check and risk ruining the serenity?" But alas you search out the situation and every great, great once in awhile you discover that this peace really is just a rare, precious moment.


Like the day last year when I found Bella and Buddy sitting quietly side by side reading. I snuck a picture and then tip toed off. When all was still quiet sometime later I decided to go have one more look at my adorable kids. I just love to see them getting along. And that they were doing something to improve their minds was just a wonderful bonus. However, this time I did not find them lost in a wonderful imaginary world. Instead I found this...





Now we do live in Texas, it is hot, and sometimes the children get very sweaty. They get sweaty even when they are just sitting around, not really being particularly active... this was not one of those times. Bella was in the process of potty training gone bad, and this 'moisture' soaking my children's heads was due to the puddle they were playing in. I do love the look it gave Bella's hair.


Look at those waves. If only I could bottle and sell tee-tee. O.K. maybe not.
And what was Hoss doing while all this was going on? What every sweet little newborn does.
Join the fun with Photostory Friday!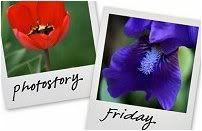 Hosted by Cecily and MamaGeek