I am not one of those paparazzi type moms that walks around tormenting family with snapshots and 'candid' poses. In fact I rarely remember to take my camera along for events. On the rare occasion that I remember to take the camera I forget to actually take pictures.
Oddly enough my kids are notorious for doing something they deem cute or clever and asking, "Can you take a picture of us?"
Yesterday was full of such moments. I have to admit, in my opinion they are quite good at realizing what really is cute and clever. Or maybe it is just that they are always tending towards being both cute and clever.
Here are just a few of yesterdays photo ops!
She was trying to hold him so that they could dance together.
It was really more like a 'tumbling' act.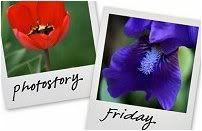 Hosted by Cecily and MamaGeek