I love this picture! This is my mama.
Three months ago the youngest of my parents 10 grandchildren was born. It was the first time she got to be in the room with one of us during delivery. My sister had asked my mom ahead of time if she would like to be in the room for it. When it got to be time to go in mama was feeling a little apprehensive and wondering if she would make it through the whole delivery without chickening out. This look tells the whole story. She appeared back in the waiting room after my sweet nieces birth and exclaimed "I did it!"
Yeah mama!! You did it!!
If you don't participate in Photostory Friday you totally should! It's a blast!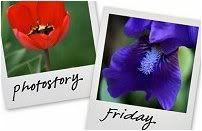 Hosted by Cecily and MamaGeek