This is a story about a boy who, up until the time he was two, had not received even a lick of brownie batter. His mother, who passionately hates baking, had deprived her children of such pleasures in life as licking the mixing spoon full of ooey gooey mouth watering chocolate mush. One day after giving into a craving for something fattening and delicious. Said mother decides to break down and mix up a boxed batch of brownies. She is feeling unusually generous that day and so decides to share a small part of the half batch of brownie batter that always makes it into her mouth pre baked. She scoops out a spoonful for her three-year-old daughter and then hands two-year-old son the mixing spoon full of ooey gooey goodness.



Boy Loves His First Yummy Bites of Sticky Chocolate!

Boy Finishes Spoonful of Chocolate and Finds Out There Is No More!




Boy Is Unhappy About This Little Arrangement! And Does Not Get the Privilege of Ooey Gooey Goodness For Quite Sometime After!

List your blog for free at
Home With Friends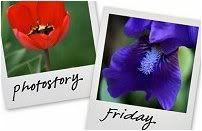 Hosted by Cecily and MamaGeek